ALTO nVELOP™ Premium Surround Sound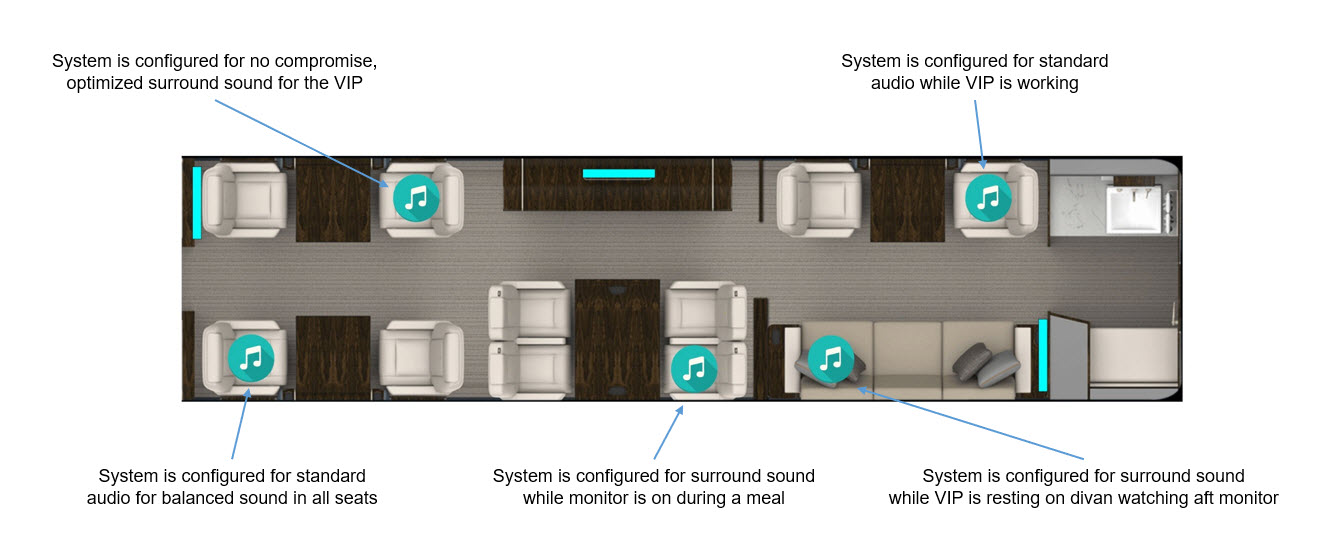 Immerse your cabin in acoustic perfection at 40,000 ft.
ALTO nVELOP™ Premium Surround Sound has been a reference in audiophile quality in Business Aviation for 25 years.
Continued innovation and customized configurations allow us to provide the excitement and incredible sonic impact of surround sound to all types of aircraft cabin.
Our unrivaled technology sets the standard for state-of-the-art audio performance in our industry.
ALTO acoustic engineers work very closely with all installation teams to provide maximum optimization considering the unique requirements of each cabin.
The result is the most powerful front row, immersive center stage digital surround sound experience available in Business Aviation.
Excellent audio coverage with standard ALTO premium Cabin Audio
Unrivaled audiophile coverage with ALTO nVELOP™ Premium Surround Sound
Feel the power of a front row, center stage audiophile experience.
ALTO nVELOP™ Digital Surround Sound is the next step for any music lover, movie and sports fan, and videogame enthusiast.
We reproduce the surround sound experience of the most advanced home theater system at 40,000 ft. of altitude.
Our speakers will awe you by placing you at the center of the action, delivering the most powerful, realistic, clear sound available in Business Aviation.
ALTO nVELOP™ Digital Surround Sound is specifically designed for the passenger cabin.
The proprietary surround decoding process takes into account off-center monitors and seating.

Frontal sound imaging w/rear surround for fwd and aft-facing seats.

Easy upgrade from ALTO Premium Cabin Audio System.
Contact us for a fast quote
"Our experience with ALTO Aviation is excellent. The owner of our aircraft, a Falcon 900, loves electronics and great surround sound system in the cabin. ALTO fulfilled our customer's request by installing eight subwoofers. This is the most outstanding and clearest sound we've ever heard in an aircraft. ALTO sound system was fully customized to our customer's needs, which makes it easier to present to other customers. We constantly get positive reviews and our customers love the listening experience.
Jan Stutton Smith, Jones Management Aviation