PREMIUM CABIN AUDIO & CMS DESIGNED WITH YOUR BUSINESS JET IN MIND
"The products and services offered by ALTO Aviation are simply at the top of the mark when it comes to form, fit, finish, and functionality in their intended applications. What really sets ALTO apart in this arena is their people, from technical support, sales, engineering, shipping, marketing, to leadership, and all others in-between.  They take a very active role in listening to their customers, which includes both the end operators and MRO partners, converting it into actions that drive results.  This translates into their products and services wherein the end the customer is ultimately the winner.  Great products and even better people!"
Don Milum, Director of Sales, North America / Universal Avionics
LIGHT & POWERFUL COMPONENTS & CABIN SOLUTIONS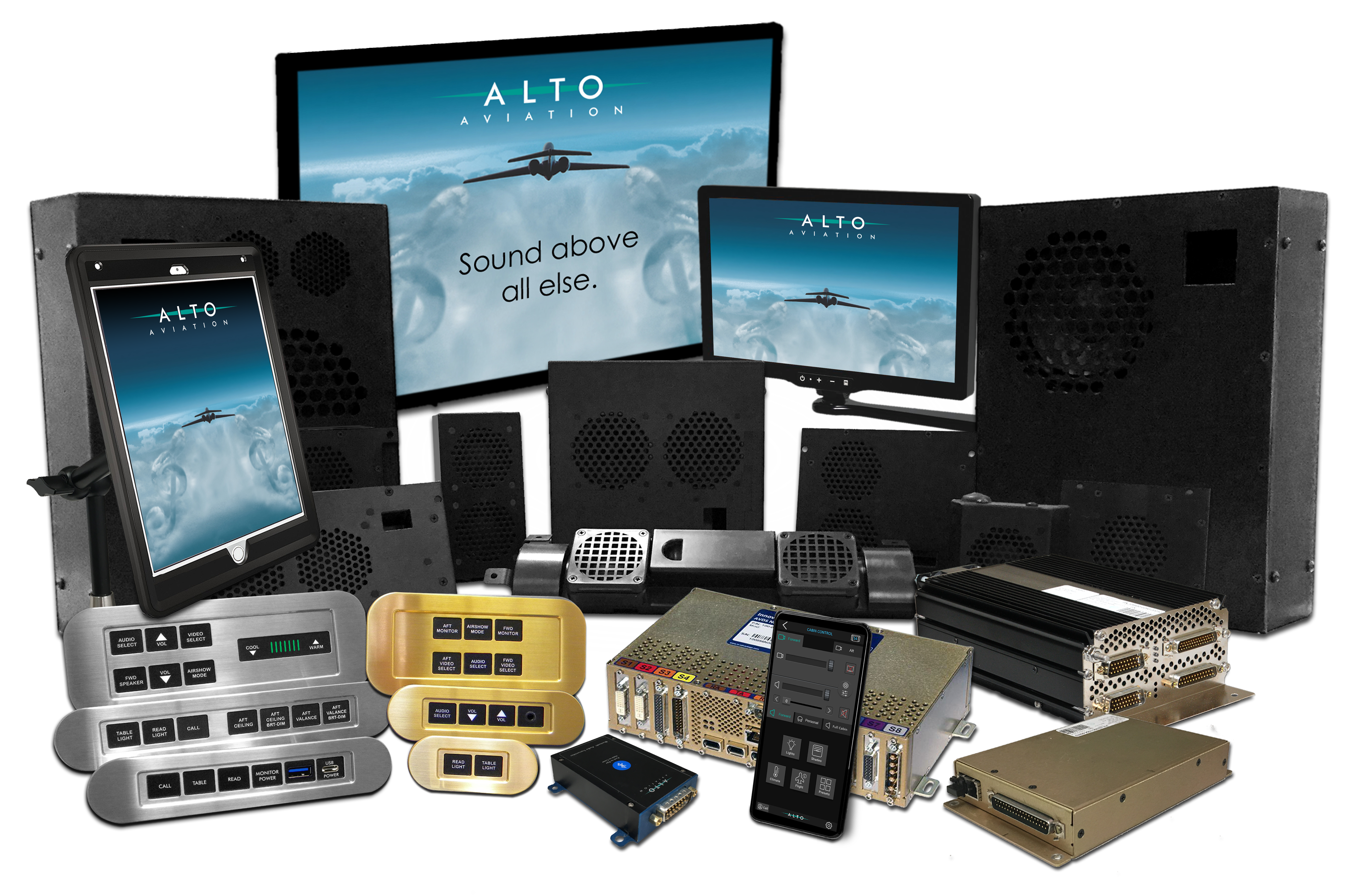 Aircraft audio amplifiers, loudspeakers & woofers / PA systems
Surround & Immersive sound systems
Cadence™ Cabin Management System with cabin control app
Cadence™ Switch Series / Aircraft keypads & controllers
 Stand-alone IFE systems / Bluetooth™ Audio / System Master Controller
Precision sheet metal & machined parts
FAA TSO – C139 approved
"I've installed ALTO equipment on multiple VVIP business jet interiors and can't say enough positive things about the ALTO team and the quality of their equipment. Also being a musician, I'm extra picky about audio, ALTO continues to provide excellent solutions, project after project, thanks!"
Ronald Thompson, Electrical Engineer I – FAA Airframe Mechanic / ALOFT AeroArchitects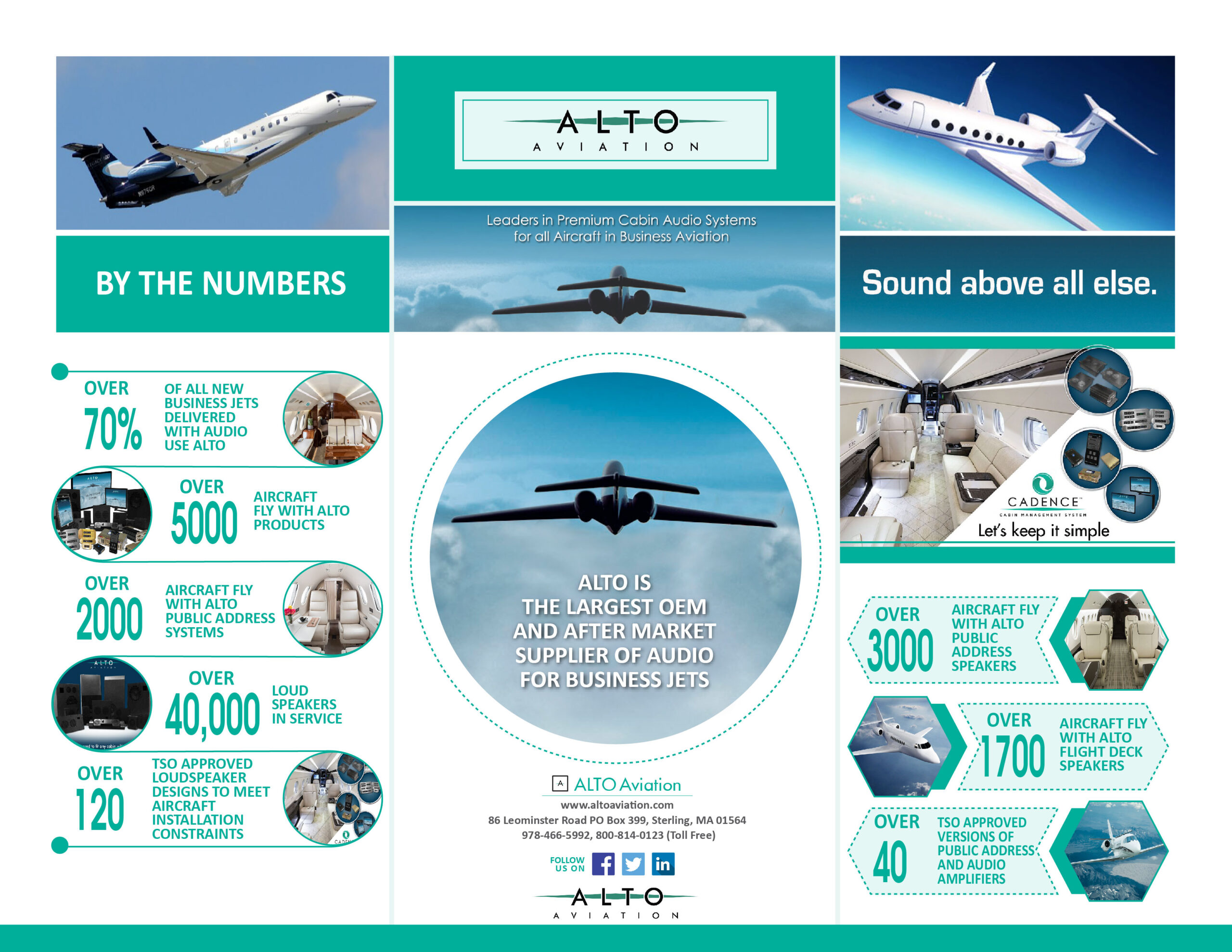 STANDARD EQUIPMENT IN MOST OEM
ALTO Aviation is standard equipment on Gulfstream G700, G600, G500, G650, G650ER, G550 Elite Series, G500 and G280 models, Falcon F8X, F7X, F2000, F900, Embraer Lineage 1000E, Legacy 650E Preator 600, Preator 500, Legacy 500, Legacy 450, Cessna Citation Longitude, Citation Sovereign+, Citation Latitude, Citation XLS+, HondaJet Elite, HondaJet, Airbus 380 (upper-level lounge speakers), Bell Helicopters, Safran (PA speakers) and Sikorsky S-92. We are currently working under NDA with other major OEMs on the integration of ALTO Aviation products as standard equipment.
INTEGRATES WITH OVATION™ & VENUE™ 
ALTO Aviation customized premium cabin audio systems are offered as an integral part of the Honeywell Ovation™ & Collins Aerospace Venue™ Cabin Management Systems. ALTO is also the preferred choice for retrofit installations for all business aircraft, small to large, throughout the world.
With more than 5,000 customized premium sound systems flying the skies all over the world, ALTO remains the unrivaled leader in high-end cabin audio systems.